For inquiries about Yume Note Farmers and their products, please click here.
---

The 2 special cultivars of strawberry from the Nagata Farm encased in the pound cake
'Sun Angel' strawberries featuring powerful, refreshing flavour and good natural acidity -- they were semi-dried slowly at low temperature to highlight the flavour and sour-sweetness.
---
'Akihime' strawberries with juicy-sweetness and soft pulp were gently cooked into jam.
The goodness of the 2 strawberry cultivars were kneaded in the dough at an exquisite blend ratio and baked.

---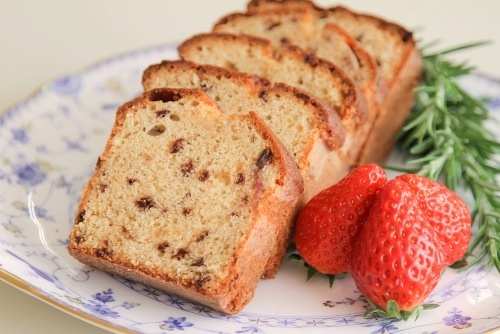 ---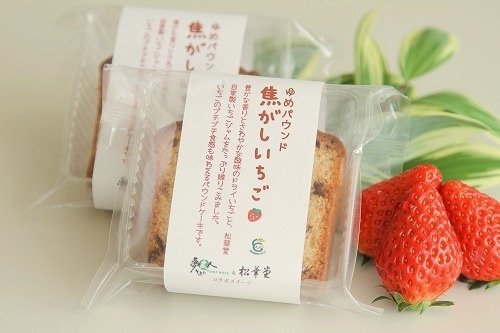 Strawberries raised on the Nagata Farm (a Yume Note Toyota Farmer) using natural farming methods and minimizing pesticides
The Nagata farmers keep an eye on their strawberries and control suitable growth conditions on a daily basis.
---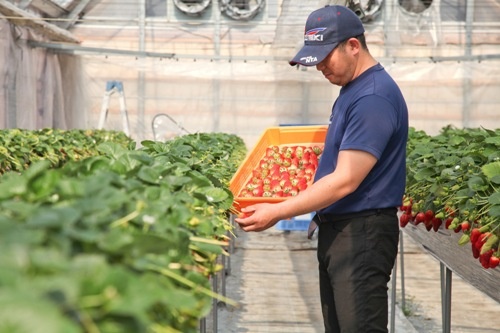 They raise strawberries like their own children by thoroughly controlling temperature and watering. The Nagata strawberries have achieved a favorable evaluation from local restaurants and bakeries.
---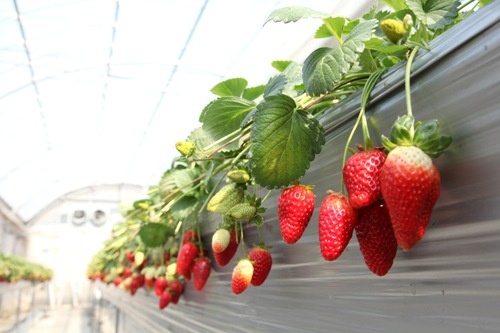 Toyota City Agricultural Product Branding Promotion Committee evaluated the Nagata's commitment to minimize pesticides and deliver safer and tastier strawberries and certified them to display the 'TOYOTA BRAND' logo on their product to guarantee safety.
---
Fresh, deliciously rich eggs from Miyazawa Poultry Farm (a Yume Note Toyota Farmer)
---
Mr. Miyazawa of the Miyazawa Poultry Farm who has worked for a feed company raises poultry with a unique blend of feed and quality ground water. Miyazawa's fresh and flavoursome eggs are sumptuously used in the Scrumptious Strawberries.
---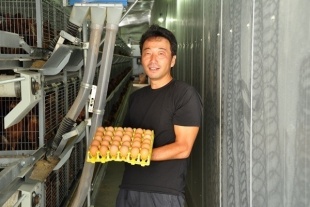 Shokado Bakery's expertise in carefully selecting ingredients and extracting a good taste
As the local bakery established more than 50 years ago, Shokado Bakery is strict about their ingredients and visits producers directly before making their products into a recipe. Shokado's appealing products based on profound understanding of ingredients captivate the fans.
---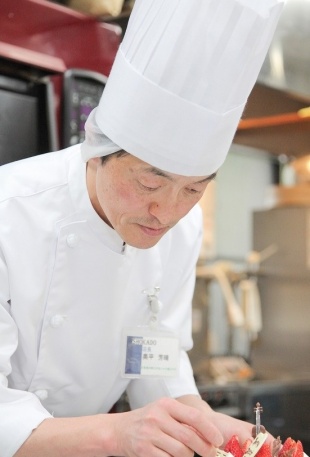 Shokado has used another Yume Note Farmers' products before and received the media coverage too.

 →Coverage by Yomiuri Shinbun (Newspaper) on 30/05/2013
 →Coverage by Chunichi Shinbun (Newspaper) on 13/05/2013 Shinbun(Newspaper)
 →Coverage by Chunichi Shinbun (Newspaper) on 29/11/2012 Shinbun(Newspaper)
 →Coverage by Chubu Keizai Shinbun(Newspaper) on 24/11/2012
The pound cake Scrumptious Strawberries is the result of repeated trial and error to find an exquisite blend ratio of dried Sun Angel strawberries, Akihime jam, eggs, flour, and honey that can bring out the best of the ingredients.
Sales schedule in Toyota, Japan:
The Scrumptious Strawberries will be on sale at the following 3 shops from 24 May 2014.
- 'Hogaraka' (a store for promoting local production/consumption located inside the 'Eco-ful Town', a Toyota city facility)
- Shokado Bakery, Fujioka shop
- Shokado Bakery, Toyota shop
The Scrumptious Strawberries can also be ordered online from 24 May 2014. Details will be announced on this page soon.

For inquiries about Yume Note Farmers and their products,
pleaseclick here.
---